CHAPTER 6: Performance Study - Drug Design Exemplar¶
Let's look at a larger example. An important problem in Biology is that of drug design. The goal is to find small molecules, called ligands, that are good candidates for use as drugs.
This is a very rough simulation of a program to compute how well a set of short protein ligands (each a possible drug) matches a given longer protein string. In the real software programs that do this, the matching is quite sophisticated, targeting possible 'receptor' sites on the protein.
Here is an image illustrating the concept of the ligand (represented by small sticks in center) binding to areas of the protein (represented by ribbon structure):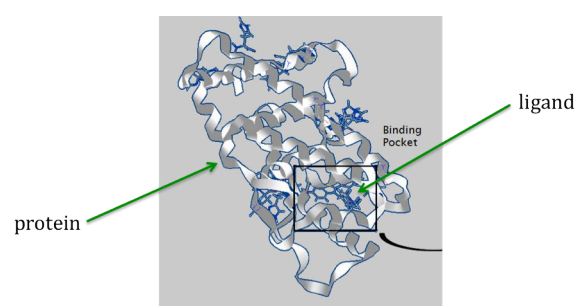 For the real versions of this code and our simulated case, the longer the ligand or the longer the protein, the longer it takes for the matching and score of the match to complete.
We have created a default fake protein in the code. This can be changed on the command line.
We create the list of possible ligands by choosing random lengths (controlled by the maxligand variable). Thus, each ligand can be of a different length.
You have attempted of activities on this page